2019 AMA Pro Hillclimb Round 1 at Seven Springs Mountain Ski Resort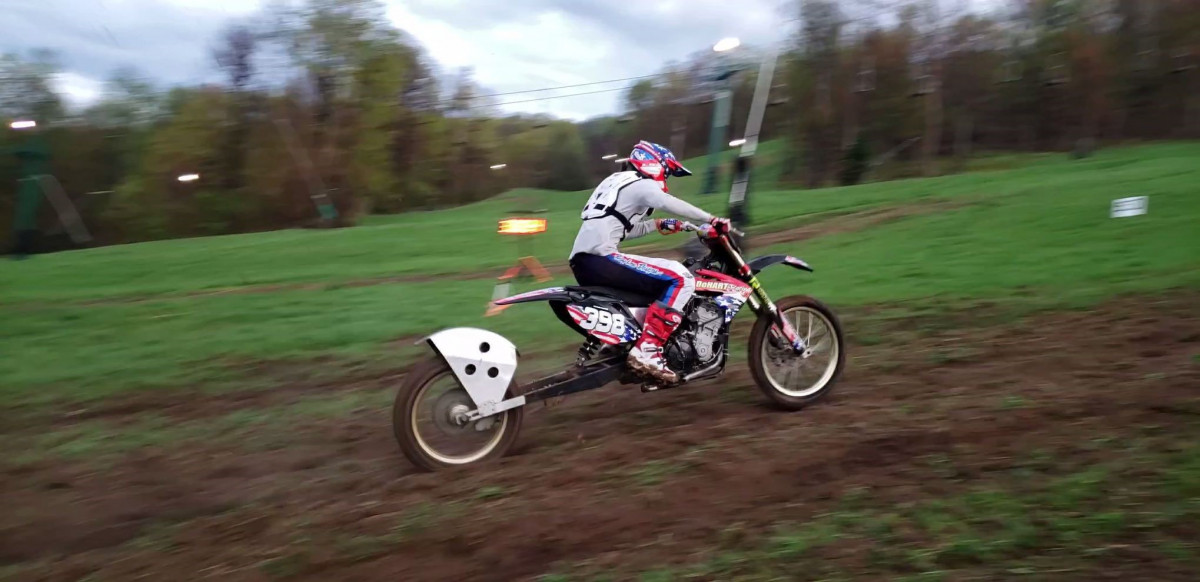 DAYTONA BEACH, Fla. (May 15, 2019) - The first round of the 2019 AMA Pro Hillclimb series kicked off at the Seven Springs Mountain Ski Resort in Champion, Penn. The show provided by the 1000-foot climb – sponsored by Harley-Davidson dealerships from both Eastern and Western Pennsylvania – did not disappoint those in attendance.
In the 450cc class veteran rider Phil Libhart held the fast time through the first six runs until the young, but formidable Logan Cipala knocked an entire two seconds off of Libhart's time, setting a new fast time of 21.269 sec. The glory was short-lived as returning champion John Koester stopped the clock at 20.738 sec.
Rookie riders Trey Hagstrom and Matt Walker both finished within the top 10, but at the end of the two 450cc rounds, it was Koester, Cipala and Joel Falde who rounded out the top three. Wild Man Jack Mason finished just off the podium by .2 seconds with fourth place.
The Xtreme class's first twelve riders kept times within the 23 second range, but the biggest factor affecting performance proved to be the big sweeping turn at the 250-foot mark – the issue coming from the extended swingarm position of the class's machinery. Koester didn't appear to notice the turn as he managed to deliver an impressive 20.987-second finish – the fastest time by over a second.
Second place finisher Cody Mason earned his first AMA Pro Hillclimb podium by nearly matching Koester's masterful run and finishing in just 20.99 seconds. Phil Libhart podiums again with a third place finish of 22.138 seconds.
Only one round of the Unlimited Class could be completed before rain brought the event to a close, but attendees were pleased to see the running of the top fuel nitro class. With more impressive performances, returning champion Koester (20.203 sec), Libhart (21.156 sec) and Cipala, who ran his Buell 1190R, (21.230 sec) took the three podium spots of the day.
Even though the weather put a damper on the racing action, hats off to the volunteers and workers from the Muscular Dystrophy Association and the Harley-Davidson Dealers Association for hosting a commendable awards ceremony. The riders and the children from MDA were all able to participate in the celebration, as seven-time AMA Pro Hillclimb Champion Tiger Strank presented the trophies to the winners.
AMA Pro Hillclimb racing action will resume on June 2 as the AMA Pro Hillclimb Series heads to Spring Grove, Penn. to the winner of the 2018 Promoters of the Year: the White Rose Motorcycle Club.