Rassa and Cipala Top Freemansburg II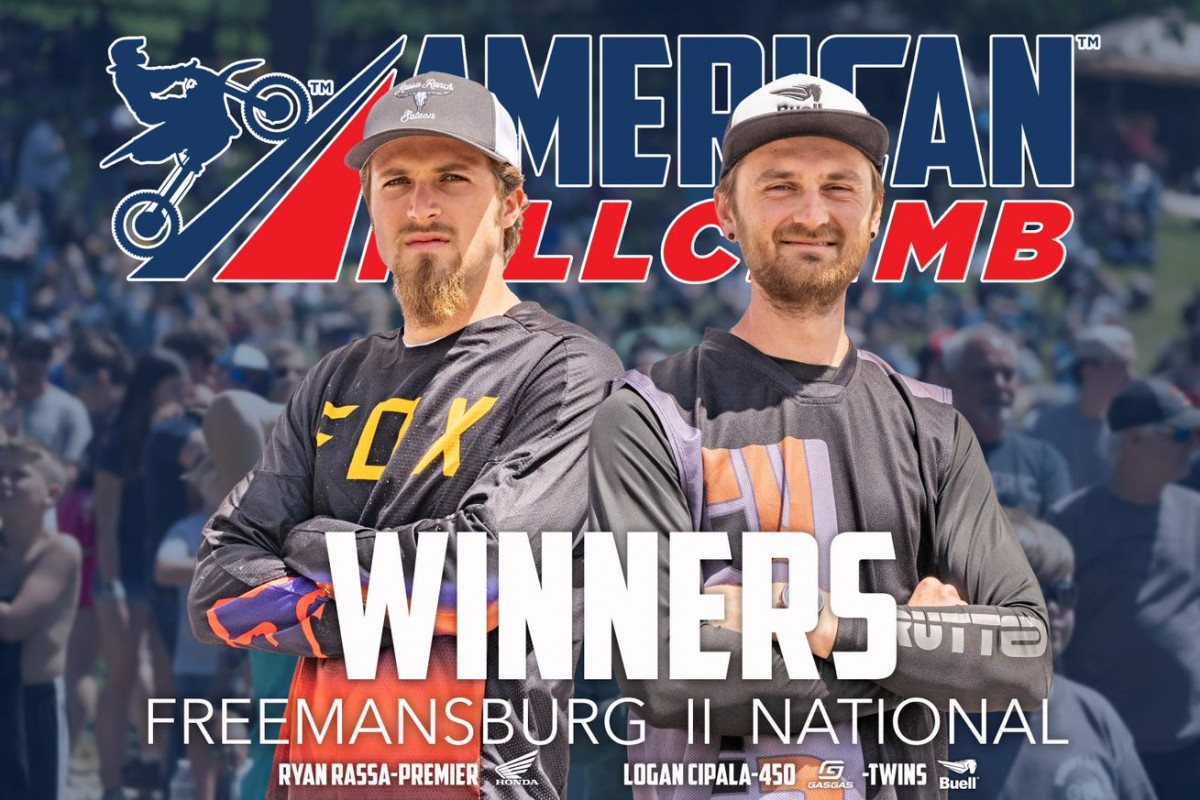 FREEMANSBURG, Penn. (October 2, 2023) - Logan Cipala locked up not just one, but two national titles as the 2023 American Hillclimb season completed its penultimate round at the Bushkill Valley Motorcycle Club in Freemansburg, Pennsylvania.
A big crowd flooded the venue despite the day's inclement weather and were present to witness Cipala continue his perfect and near-perfect campaigns in the respective Twins Hillclimb and 450 Pro Hillclimb classes.
Cipala increased his '23 tally aboard his Buell 1190HCR to an unassailable 125 points by notching up his fifth race win in as many attempts thanks to a muddy 14.318-second run. He was joined on the box by Yamaha MT-07-mounted John Koester (16.649 seconds) and KTM 990-armed Kirk Mueller, who secured his first podium of the year in 17.682 seconds.
Cipala also clinched the 450cc crown aboard his GasGas machine by scoring a fourth consecutive win in 13.599 seconds after opening the season with a runner-up result. Calob Blain took his best result of the year in second with a time of 14.263 seconds on his Honda CRF450 while Logan Peterson rounded out the top three on his Honda at 15.251 seconds.
Meanwhile, the Premier Hillclimb championship remains undecided as the series heads to its upcoming season finale at Devil's Staircase in Oregonia, Oregon, promoted by the Dayton Motorcycle Club, this Sunday, October 8.
That said, Koester now enters the decisive event in a commanding position after finishing second at Bushkill Valley, while his primary rival, second-ranked Cipala, equaled his worst result of the season in eighth. As a result, Koester holds a 17-point advantage (109-92) with just 25 points still in play.
The day's premier-class victory went to Ryan Rassa, who picked up his second win of the year after previously taking top honors during the season's first stop at Freemansburg back in June. Rassa clocked a 10.128-second time on his DeHart Racing nitro CBR 636 to edge Koester's 10.396-second run aboard his nitro CBR800. Blain picked up his second podium of the day by finishing third in 11.174 seconds on his Wizard Racing nitro Yamaha R6.