Nuzzolilli Takes Points Lead Over Sallstrom With Win at Muskegon's Historic Mt. Garfield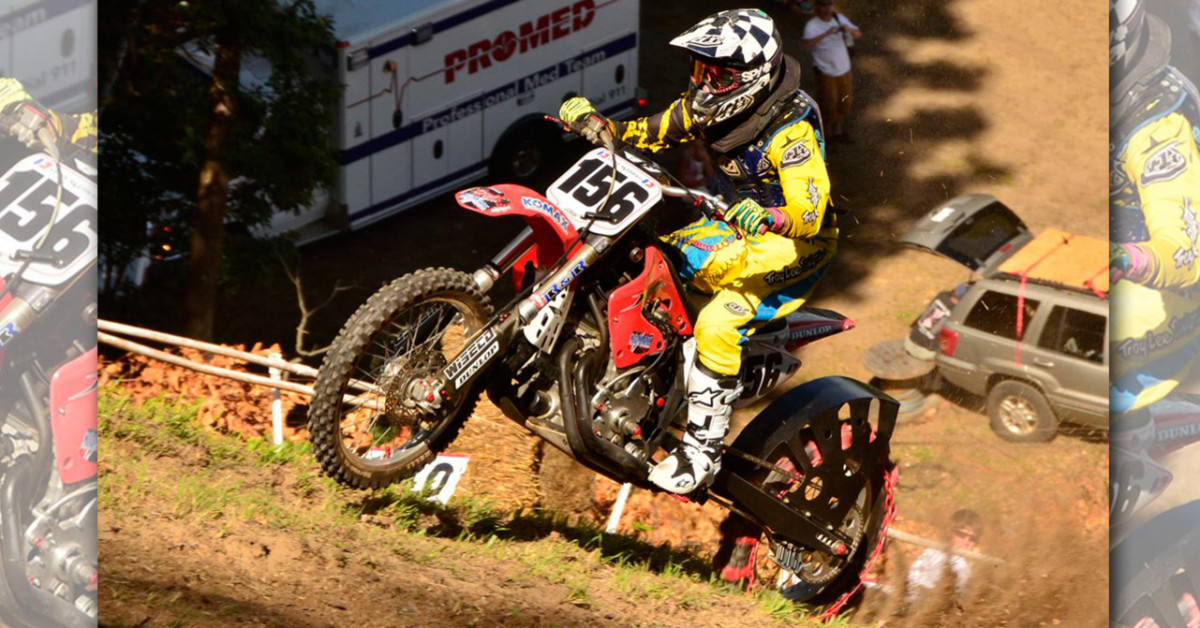 DAYTONA BEACH, Fla. (August 7, 2012) - Vinny Nuzzolilli took the points lead from rival Jay Sallstrom with a win in the Wiseco Unlimited Class when the AMA Pro Hillclimb Series held round 6 and the "All-Star Challenge" at Muskegon's historic Mt. Garfield. Nate Redmann crashed out in round 5 but was back in winning form with a first place in the Tilt-A-Rack Xtreme Class and Alex Erickson took his second win in a row in Pro Sport, proving his first was no fluke.
In the Tilt-A-Rack Xtreme Class John Koester set the pace with an opening ride at 5.887 seconds only to be eclipsed by Sallstrom at 5.876 seconds. Then Redmann posted a 5.178 E.T., setting the bar higher. Shane Green took over second with a 5.637-second ride but crashed after the finish line, taking him out for the rest of the day.
In the second-half Xtreme action, Sallstrom moved up a spot to second place with a 5.474-second ride, not enough to snatch the win from Redmann. Robby DeBusk squeaked by Green in 5.601 seconds to round out the podium in third.
Pro Sporters hit the hill next with Kyle Johnson posting the first time, a 7.690 E.T. Erickson posted a 7.686- just four-thousandths faster. 2011 champ Ian Lau, just back from a foot injury that took him out of round 5, rode last but took over first place with a 7.121-second ride.
When the Pro Sport riders returned from intermission, Johnson moved into second, posting a 7.175-second time. Then points leader Chris Chartier, Jr. crested in 7.124 seconds bumping Johnson to third. Erickson rode late in the order and had the hill figured out- he stopped the clock at just 7.082 seconds for the win. Lau and Chartier rounded out the podium in second and third respectively.
The Wiseco Unlimited Class has been a pitched battle between 2011 champ Sallstrom and second-year pro rider Nuzzolilli. Sallstrom fired the first volley of round 6 with a 5.230-second E.T. Tiger Strank posted a 5.502-second time only to see Nuzzolilli edge him back one spot by 0.002 seconds. At the half it was Sallstrom, Nuzzolilli and Strank- 1, 2, 3 in order.
After intermission, Sallstrom bested his own time with a 5.225-second ride hoping to clinch the win. But Nuzzolilli fired back, late in the order, with a 5.184-second E.T. for the win and a one-point lead over Sallstrom in the series. The Unlimited Class podium held Nuzzolilli, Sallstrom and Strank: first, second and third, respectively.
Rides one and two are all about the podium position and the points, but the All-Star Challenge is all about the purse. Winnings for the Xtreme and Unlimited Class riders are determined by running the top ten riders in both classes a third time in reverse order, tenth to first, with the previous times wiped out. Xtreme Class winner Redmann took the top prize with a time of 5.616 second. In the Unlimited Class, rookie Greg Dunbar stood seventh after the first two rides but won the Challenge with a 5.563 second E.T.
AMA Pro Hillclimbers face off next at Freemansburg, PA for round seven on September 9.
Results
U/L: 1. Vinny Nuzzolilli (Hon); 2. Jay Sallstrom (Yam); 3. Tiger Strank (Hon); 4. Colby McCutcheon (Yam); 5. Robby DeBusk (Yam).
Xtreme: 1. Nate Redmann (Yam); 2. Jay Sallstrom (Suz); 3. Robby DeBusk (Yam); 4. Shane Green (Hon); 5. Phil Libhart (Tri).
Pro Sport: 1. Alex Erickson (Hon); 2. Ian Lau (Hon); 3. Chris Chartier, Jr. (Hon); 4. Kyle Johnson (Kaw); 5. Molly Carbon (Hon).