Wentz Scores Breakout AMA Pro Hillclimb Win at Ogemaw Hills National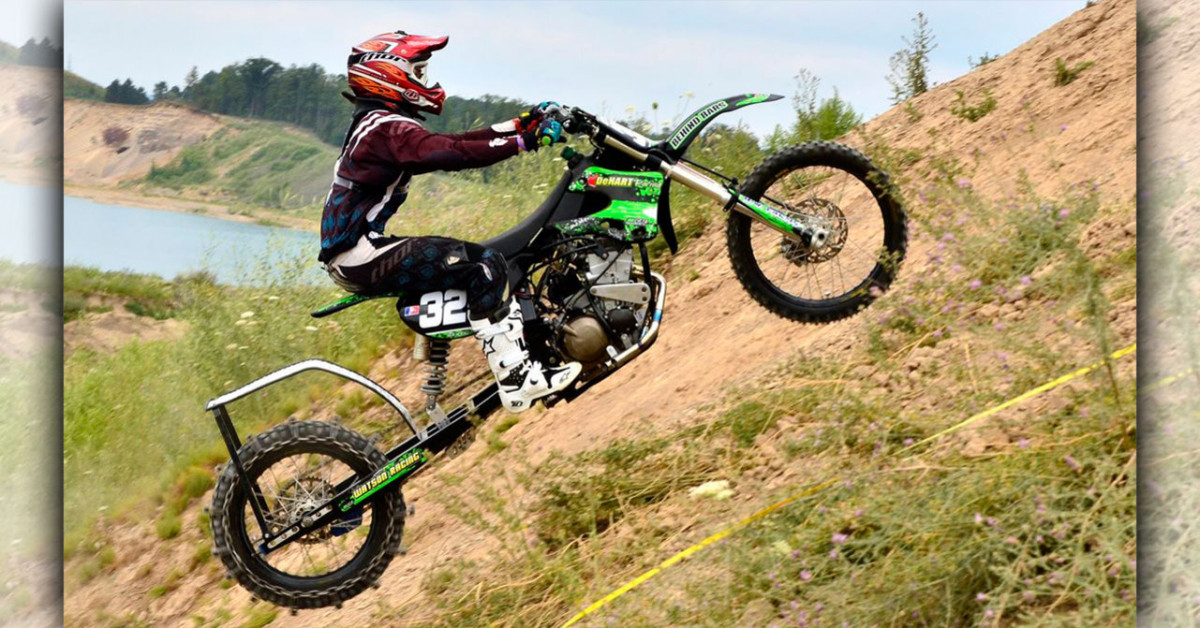 WEST BRANCH, Mich. (July 15, 2012) - Scott Wentz, Jr. took his first ever pro hillclimb win when the Ogemaw Hills Bike Week hosted an AMA Pro Hillclimb for the kickoff of their week-long rally. Wentz's victory was paired with a one-two win by Vinny Nuzzolilli and a first ever win in Pro Sport by rookie, Alex Erickson.
The Tilt-A-Rack Xtreme Class riders took to the the hill first with most riders setting their faster times in the first half, before an intermission cloud burst soaked the hill. Wentz rode fourth in the order, setting the bar for following riders at a 4.009 E.T. Nuzzolilli stopped the clock at 4.017, just off the pace. Late in the first half, Phil Libhart laid down a 4.091-second ride, edging out Shane Green. The order stood: Wentz, Nuzzolilli and Libhart at the half and it did not change after intermission. Jay Sallstrom moved up to fourth on his second-half ride, knocking Green back one spot.
The Pro Sport field had only six riders but plenty of action. In the first half, lead-off rider, Molly Carbon set the pace at 7.428 seconds. Points leader, Chris Chartier, Jr. topped the hill at 8.067 for second and Devin Sweitzer landed in third at 195 feet after a bike-flipping crash. The second half was all about beating Carbon, and three riders did it. Erickson was the first and the only Pro Sporter under six seconds. Chartier bettered his own time by nearly two seconds followed by Sweitzer with a 7.133 second E.T. On the podium it was Erickson, Chartier and Sweitzer, one, two and three, respectively. Chartier widened his series points lead while Ian Lau, second after round four, is out with an injury.
The Wiseco Unlimited Class riders set most of their fast time in the first half. Nuzzolilli led the charge with a scorching 3.388-second ride. Points leader, Sallstrom crested in 3.662 seconds, just behind Nuzzolilli. Matt Luna put in a 4.145-second ride for third at the half. After intermission Sallstrom battled back with a 3.627-second E.T., faster than his first ride but not enough to take the win. On the podium stood Nuzzolilli, Sallstrom and Luna, first, second and third, in order. In series points, Nuzzolilli shaved Sallstrom's lead to just two.
Wentz said that after his first win, he is "super-stoked." Nuzzolilli let on that he thought Sallstrom's ride looked faster than his own. But when he looked at the clock, he thought, "Dang, I must have been really fast!" Fast, indeed.
AMA Pro Hillclimbers return to Michigan for round six and the All-Star Challenge on August 5 at Muskegon.
Results
U/L: 1. Vinny Nuzzolilli (Hon); 2. Jay Sallstrom (Yam); 3. Matt Luna (Kaw); 4. Tiger Strank (Hon); 5. Colby McCutcheon (Yam).
Xtreme: 1. Scott Wentz, Jr. (Hon); 2. Vinny Nuzzolilli (Hon); 3. Phil Libhart (Tri); 4. Jay Sallstrom (Suz); 5. Shane Green (Hon).
Pro Sport: 1. Alex Erickson (Hon); 2. Chris Chartier, Jr. (Hon); 3. Devin Sweitzer (Hon); 4. Molly Carbon (Hon); 5. Matt Gillespie (Hon).